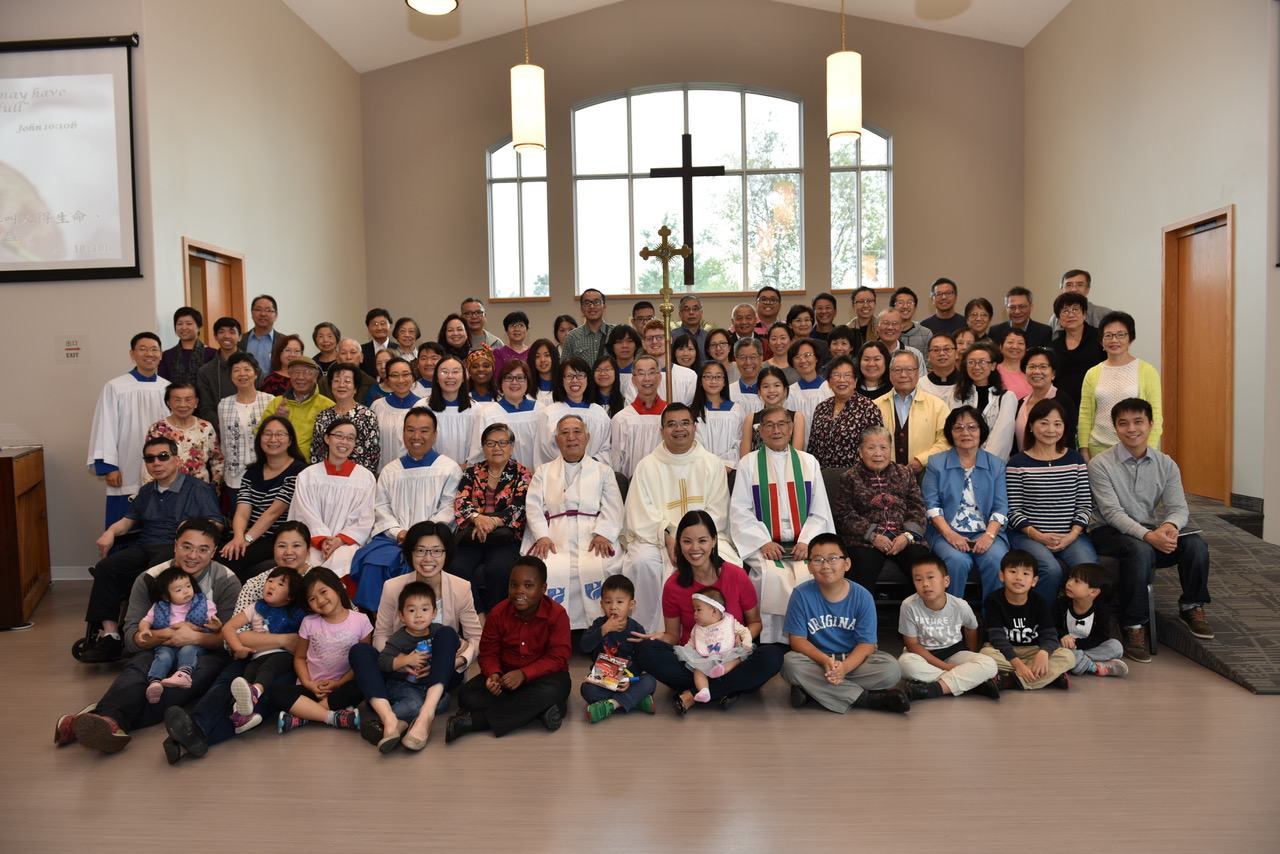 St. Elizabeth's Anglican Church (St. E.), a member of the Anglican Diocese of Toronto, was formed in 1992 in Etobicoke. After the major fire in 1999, we worshiped at Christ Church, Mimico, and two school gymnasiums. With the help of the Diocese and generous donors, we purchased the land at the current location and built a church that also functions as an outreach centre. After many years of prayers, planning, and fundraising, we expanded the building in 2015-16. We celebrated our 25th anniversary in 2017.
St. E. was established initially by a group of immigrants from Hong Kong, and the main language for worship and fellowship was Cantonese. As time went on, friends from mainland China and other cultural backgrounds joined in. Nowadays, we have 3 worships (Mandarin, Cantonese, and English) every Sunday. We sing our praises and learn about God's words in Bible study groups and Sunday School. During lunch fellowship on special days, everyone greets each other and enjoy each other's company.
At St. E., our brothers and sisters work together diligently to do God's work, to serve the community, and to spread the great news that God loves everyone. We sincerely invite you to join our big family!
聖公會頌主堂屬多倫多教區,於1992年在伊桃碧谷成立。1999年經歷一場火災後,先後借用過基督堂及兩所學校之體育館進行崇拜。至2003年,得教區及善長仁翁之協助而購入現址,並興建教堂以及外展中心。又經多年同心禱告、計劃,及進行籌款活動後,終於2016年完成了教堂擴建工程,並於2017年慶祝了教堂成立25週年紀念。
頌主堂最初是由香港移民組成,崇拜及團契都以粵語為主;後來則有來自中國內地及不同文化背景的朋友加入。現在我們每個主日都會舉行國、粵、英三堂崇拜,大家一起唱詩讚美神,並在研經班和主日學裏學習神的話語。而在特殊節慶的午膳團契中,男女老幼彼此問安、和睦暢聚,樂也融融。
頌主堂弟兄姐妹都無分彼此,大家努力為神作工,為社區服務,宣講「神愛世人」這大好的信息。我們都誠意邀請您來加入我們這個快樂的大家庭!
圣公会颂主堂属多伦多教区,于1992年在伊桃碧谷成立。1999年经历一場火灾後,先后借用过基督堂及两所学校之体育馆进行崇拜。至2003年,得教区及善长仁翁之协助而购入现址,并兴建教堂以及外展中心。又经多年同心祷告、计划,及进行筹款活动后,终於2016年完成了教堂扩建工程,并于2017年庆祝了教堂成立25周年纪念。
颂主堂最初是由香港移民组成,崇拜及团契都以粤语为主;后来则有来自中国内地及不同文化背景的朋友加入。现在我们每个主日都会举行国、粤、英三堂崇拜,大家一起唱诗赞美神,并在研经班和主日学里学习神的话语。而在特殊节庆的午膳团契中,男女老幼彼此问安、和睦畅聚,乐也融融。
颂主堂弟兄姐妹都无分彼此,大家努力为神作工,为社区服务,宣讲「神爱世人」这大好的信息。我们都诚意邀请您来加入我们这个快乐的大家庭!